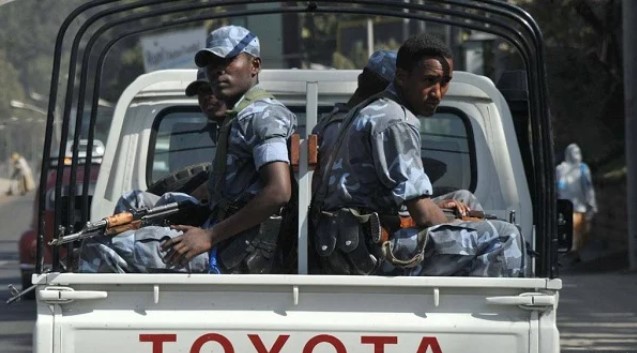 The Ethiopian Defense Forces killed some 42 "anti-peace elements" as part of the crackdown on perpetrators of the latest "gruesome" attack that killed at least 100 civilians in Ethiopia's western Benishangul-Gumuz regional state, local government officials said on Thursday.
On late Wednesday, the Ethiopian Human Rights Commission (EHRC), a federal rights group established by the Ethiopian parliament, said in a statement that more than 100 people had been killed in a recent armed attack in Bekuji, Metekel zone of Benishangul-Gumuz region at around 10:00 pm local time on Tuesday. - reports Xinhua.
According to the EHRC, the attack was carried out by armed men who set fire and shot at residents while they were asleep. The incident revealed "the ever-deteriorating human rights protection in the region," the commission warned, adding that "attacks have intensified in appearance and scale recently."
On Thursday, the Benishangul-Gumuz Regional Government Communication Office disclosed that some 42 "anti-peace elements" who are said to be behind the attack on civilians have been "destroyed", state-affiliated Fana Broadcasting Corporate (FBC) reported.
As part of the crackdown on perpetrators of the attack, a large number of weapons and arrows used by anti-peace forces were seized by the Ethiopian army, it was noted.
The Ethiopian Prime Minister Abiy Ahmed also on Thursday revealed that the government has deployed an "integrated necessary force" in the area, with an aim to address the root causes of the problem.
"I am deeply saddened by the inhumane treatment of our people. Our efforts to solve the problem in various ways have not yielded the desired results," Ahmed said via a Twitter post.
The Ethiopian premier also urged the general public "to work as hard as we can to achieve the desired results."
Meanwhile, state-affiliated FBC also reported the arrest of five senior regional and federal Ethiopian government officials in connection with the killing of innocent civilians in the region.
The EHRC also on Thursday revealed that it has obtained testimonies of houses being burned in Benishangul-Gumuz's Chelenko and Doshe districts.
It also noted that the attacks followed the departure of National Defense Forces contingents from the area on Tuesday, which was previously positioned in the surroundings to restore calm and allegedly accompany one federal and two regional officials on their official mission.